Tesco has recently launched its new "Everyday Value" brand which will replace the "value" range. Tesco says the new range features many of the products that price conscious consumers know and love with a greater emphasis on quality, healthier options and improved packaging.
You can now see the full Everyday Value range and shop online at www.tesco.com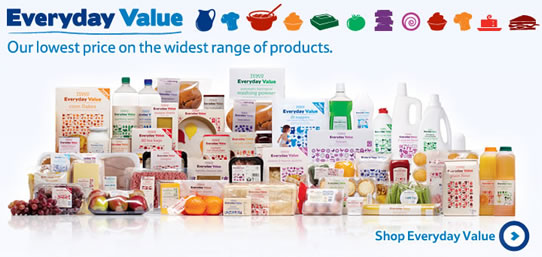 David Wood, Tesco UK Marketing Director said;  "We have listened closely to what our customers want and Everyday Value will provide products that taste better, look better and are healthier – still at the same great price."
These 3 areas are clearly something that Tesco believed could be improved upon from the old "value" brand.
Tesco says the quality of the new range comes at now extra cost to shoppers while ensuring that Everyday value products contain no hydrogenated fats, no artificial flavours or colours, and no genetically modified ingredients. Tesco have also made an effort to reduce the fat content of its Everyday value range, ensuring it appeals to families who want to save money while still maintaining a healthy diet.
The new range should be easy to spot on the shelves as Tesco has updated the packaging with more colourful branding, the packaging has also been made more functional with grated cheese in re-sealable bags, and biscuits in easy-to-open packets.
Here are just some of the new and improved Everyday Value products you can look out for:
Fish fingers – 100% fillet of fish
The chocolate swiss roll is 35 per cent bigger
Mince, reduced fat content
Tesco Everyday Value vegetables – three kinds of pea, beetroot and carrots will be 100 per cent British.
Tesco Everyday Value tinned fruit – will be in juice, not syrup when new season available
Milk chocolate digestive biscuits have more chocolate and chocolate chip biscuits have 33 per cent more chocolate chips
Have you spotted the new Everyday Value range? Have you tired some of the products, let us know what you think in the comments!
0 Responses to "A look at Tesco's Everyday Value range"