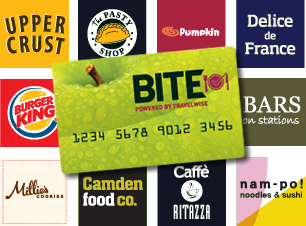 Bite Card is a fantastic way to save money at hundreds of the UK's train stations. How many times have you grabbed a coffee or some food at a train station while traveling? With a Bite Card you can save 20% at a number of popular food outlets including Burger King and Upper Crust.
Applying for a Bite Card is completely free and only takes a few minutes to fill out the required registration form. You can aslo pick up a Bite Card from certain retailers at Euston train station. Once you have your card simply activate only and you will be ready to start saving.
Bite Cards do not have an expire date which means you can keep using your card again and again. These handy savings are a must for both regular and occasional train travellers. Brands offering a 20% discount include but are not limited to: Burger King, Caffe Ritazza, Camden Food Co, Millies Cookies, Pumpkin, The Pasty Shop and Upper Crust.
If you find yourself at one of many pubs within the UK's largest train station there is a good chance you can use your Bite Card there. Often outlets which accept Bite Card will shop the Bite Card sticker near the entrance. Keep an eye out for the Bite Card logo when you are next waiting for the train.
0 Responses to "Bite Card Review and Information – Save 20% off at Train Stations"