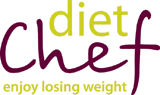 I only came across Diet Chef lately when I saw it advertised on television and thought, this is a really good idea, especially for a busy person on the go wanting to lose some weight. With 'do-it-yourself menu based diets' you really have to be organised when shopping for the right ingredients, then there is of course the weighing and measuring and lastly having to cook it all.
The idea of receiving a months worth of pre-prepared healthy and tasty food seems a bit to good to be true but this is what the Diet Chef service promises.
Diet Chef delivers to your door, a hamper full of chef prepared ready meals for breakfast, lunch and dinner, not forgetting some healthy snacks for those hunger pangs. It is really easy and fast as all the meals require no more than a quick turn in the microwave or saucepan.
Diet Chef reviews your personal profile to create a tailored programme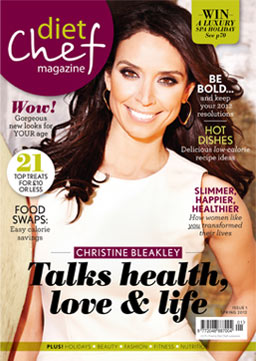 The meals contain healthy ingredients and are calorie controlled (1,200 daily calories) there are a wide variety of meals so you never get bored… porridge and granola for breakfast, soups or milkshakes for lunch, and pastas, curries, hot pots and more for dinner. However, don't expect milk or fresh fruit or vegetables in the hamper so you will need to buy these separately – Diet Chef recommend that you supplement their meals with some fresh fruit and vegetables and milk each day. Diet Chef claims that there is a hamper for everyone… all hampers can be fully tailored to suit individual needs and tastes including vegetarian options.
You also get a 'all you need to know' 48 page guide to the diet covering how the diet works, exercise, help for eating out and lots more. You have access to their forum which offers a great place to get tips and encouragement from other people while also sharing your progress. It is also good to note that there is are specially trained diet advisors on hand to offer support and practical advice whenever you need it.
So what does all this good, tasty, healthy nutritionally planned food, prepared by a chef and delivered to your door cost… well surprisingly it is very cost effective, probably not much more than you already spend on your individual weekly shop maybe even less!
There are three Options:
Pay monthly for 3 months (£39 per week) £195 for 35 days. Free delivery
Pay monthly for 2 months (£42 per week) £210 for 35 days. Free delivery
Pay as you Go – 28 days (£56 per week) £220 for 28 days. £4.95 delivery charge
The Best Value is the 3 month plan which works out at £5.57 a day
And don't forget there's the Free Week when you pay monthly
Also 21 day money back guarantee if you're not completely satisfied.
The website is very easy and clear to use and it only takes moments to place an order. You simply complete a short Personal Profile which will tell you how many calories you need, choose your hamper and payment option, then choose your breakfasts, lunches, dinners and snacks from a list, enter your credit or depit card details and your hamper will be delivered within two days.
Don't forget your Diet Chef Discount, save £10 on your first order.
Visit the Diet Chef website to get started, here's to a fit and healthy 2012 and if you are on a diet or planning to go on one we wish you every success!!!
0 Responses to "Does Diet Chef deliver on what it promises?"