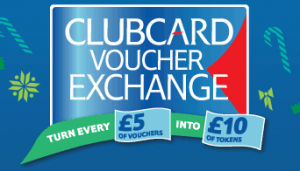 Tesco has launched this year's Christmas Clubcard Exchange. Just like previous exchanges Tesco are doubling the value of your Tesco clubcard vouchers. A fantastic way to make your pounds go further in the run-up to Christmas.
Turn a £5 Tesco Clubcard Voucher into a £10 voucher with the Christmas clubcard exchange.
Once you exchange your vouchers you can spend them at one of 12 Tesco departments, this is more departments than ever before! You can choose to spend your vouchers in-store or online. To beat the queues you can easily exchange your vouchers by simply visiting www.tesco.com and following the instructions.
Here are the 12 departments you can spend your exchanged vouchers.
Toys & Bikes
Clothing
Domestic Appliances & Personal Electrical
Furniture, Home, Cook & Dine
Finest* Wine & Finest* Champagne
Flowers & Plants
Christmas Decorations, Trees & Lights
Skincare, Cosmetics & Fragrances
Phones & Accessories
Books
Frozen Food
Opticians
There are hundreds of goods, products and services to spend your vouchers on.
Make sure you exchange your vouchers by 5th December and double their value.
For more information watch the video below and learn more about the 2012 Chirstmas Clubcard Exchange.
[youtube http://www.youtube.com/watch?v=mK40LykB128]
0 Responses to "Tesco Christmas Clubcard Voucher Exchange – Double Points"