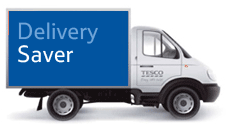 Tesco is the first UK supermarket to launch a delivery saver plan for online grocery shoppers. Save money on your deliveries by buying a 3 month or 6 month pre-paid plan which entitle you to unlimited deliveries.
Simply make an up-front payment and then watch your grocery delivery charges disappear!
Shop as often as you like with up to one delivery per day.
Choose the delivery slots that suit you regardless of costs.
3 Month Groceries Plan at £36
6 Month Groceries Plan at £60
Visit www.tesco.com for more information.
These two fantastic plans are perfect for any Tesco shopper who orders their groceries online more than once a month. Delivery charges can cost up to £6 depending on location and time by making a one off payment you can now enjoy unlimited deliveries.
You can cancel your membership at any time, you will receive a full refund if you cancel within the first 7 days and have not used any delivery saver deliveries.
0 Responses to "Tesco Grocery launch Delivery Saver"