There is a fab new way to get cashback from your food and grocery shopping and save hundreds of pounds per year by using apps on your mobile phone all for uploading your shopping receipts via the apps.
These apps are called Checkoutsmart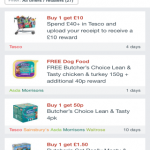 and Shopitize and can be used in conjunction with each other saving you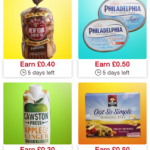 more £££'s.
You do your instore shop as normal from Tesco, Asda, Sainsburys, Morrisons, Waitrose, Co-Operative, Aldi and Lidl, check the apps beforehand to see what cashback you can get on what products, when you get home snap your receipt and upload it on the app, within 24 hours you are rewarded with cashback to your account. Shopitize also get you to scan the product barcode to prove you have purchased the product. Both apps can be found in the itunes and google play app stores.
Click the links below to download the apps now.
CheckoutSmart – Supermarket Rewards – Checkout Smart Ltd.
Shopitize – save money on grocery shopping with hot offers! – Shopitize
This week Checkoutsmart have a fantastic £10 cashback on a £40+ spend at Tesco just for uploading your receipt, thats up to 25% off your instore shopping, how amazing is that. When grouped together with shopitize you can save even more by getting cashback on individual items listed on your receipt like 4 pints of store label milk, warburtons or hovis bread and even cheerios. This week i got a 600g box of cherrios for only £1.09 as they were on special for £1.59 and i got 50p cashback on my purchase.
Simply download the apps to your mobile phone, do your shop at Tesco and upload your receipt via the app. Your £10 cashback will be available in your account within 24 hours to redeem to your bank account. Get the Offer.
0 Responses to "Cashback Food Vouchers and Offers"