The Sun Newspaper have launched a campaign together with Morrisons to offer its readers free food vouchers towards shopping, the offer seems to be running on a Thursday with the next one rumoured to be in this weeks copy of The Sun Newspaper 21/08/2014 and although it is not yet confirmed 'insiders' are saying this weeks voucher entitles shoppers to £5 of bakery products. Grab your copy of The Sun Newspaper from your local WH Smiths.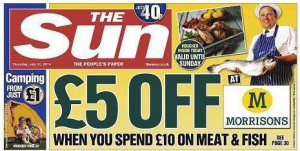 Last week the voucher gave you £5 off a £10 meat shop andour local Morrisons was absolutely jam packed, you would think they were giving stuff away for free (Wait Hold On THEY WERE), the meat ailes have never seen so many shoppers in them.
So over the past 2 weeks there have been £5 vouchers for fresh fruit and vegetables and £5 off a £10 spend of meat, fish and poultry. Hinted for this week is vouchers for £5 of bakery produce so customers can stock up on bread, cakes and buns, this has not yet been confirmed by any credible sources im told.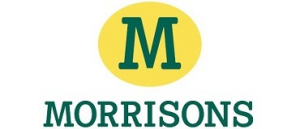 Something a little more exciting for Morrisons is there online store has now gone live and shoppers can now shop online and have their groceries delivered, however when i put my postcode in i got a message saying they were not yet delivering to my area, which is a little strange as i have 2 Morrisons stores local to me. Anyway i can still browse the website and i think its really easy to navigate around and all of the offers are very prominent. Im sure Morrisons will be releasing loads of great vouchers for our customers over the coming months so we will be sure to keep you well updated.
0 Responses to "Morrisons team up with The Sun Newspaper for free food vouchers"