Code:
Click to copy & open site
Voucher Details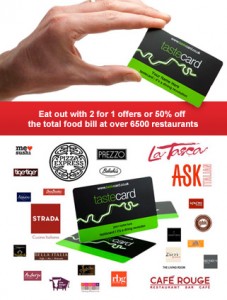 Last Orders for Christmas – Get Next Day Delivery + TasteCard for only £41.50.
Or choose 1st Class Royal Mail Delivery + TasteCard for £36.49.
Step 1: Visit www.BuyaGift.com/tastecard-offer (They are a safe & secure UK site currently selling official TasteCards for half price).
Step 2: Get an extra £5 off your order with this soon to expire discount code  xmas525
Bonus Offer – Save £15 if you spend £75 or more at Buyagift. Why not buy a TasteCard gift for a friend? Use voucher code: VC1575
You picked a good day to buy a TasteCard!
Please REMEMBER to use the discount code "xmas525" to save an extra £5 off the price.
What is a Tastecard?
With a Tastecard you only pay 50% of the total bill. It has been called a dinning revolution and now thousands of smart dinners in the UK are saving money every time they eat out.
Pizza Express, Zizzi, Gourment Burger Club, Strada, La Tasca, Ask Italian and hundreds more all accept this amazing little card.
Enjoy 50% off or 2 for 1 meals at the following restaurants.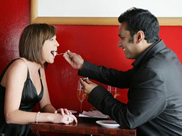 Pizza Express
Zizzi
Strada
Cafe Rouge
La Tasca
Handmade Burger Co
Ask Italian
and many more.
2 Responses to "TasteCard – Now £36.49 – Cheapest Price Online (Limited Offer)"