Voucher Details
For a limited time Tesco wine by the case are offering 25% discount when you order 2 or more cases of wine or champagne. Your order does need to be placed before midnight on the 25th November and the offer excludes fine wine and mixed cases. Your 25% discount will automatically show in your basket when 2 or more eligible cases have been added. Visit www.tesco.com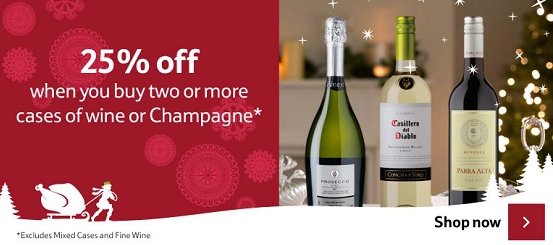 Try a truly classic Chablis with a fish dish and it will bring out the true flavours in this wine, with its apple fruit zippy freshness, made in the northerly region of France, it is characterized by the enriched soils of the french countryside.
If red is your thing then a Chilean Merlot would be your wine of choice with hints of plum and cassis fruit and a hidden flavouring of chocolate as it hits your palate, this wine is best served with a strong lamb dish to get the full flavour.
0 Responses to "Tesco Wine By The Case 25% OFF Voucher"