Voucher Details
From the 2nd November 2014 you can claim 30% off your entire food bill at any Zizzi Ristorante of your choice, simply visit the Zizzi website by clicking on the site link above and fill in your details and you will be presented with a unique code that entitles you to 30% off.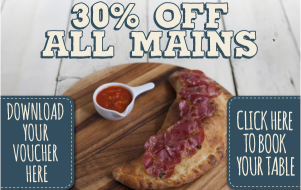 As the mornings grow colder,  Zizzi have the perfect comfort food to look forward to – the folded, full of flavour Calzone pizza packed full of meaty flavours and topped with coppa ham.
Did you also know that you can get 25% off every Sunday-Thursday if you are student, all you need to do is show your NUS card.
Terms and Conditions:
Offer is valid between 02.11.14 – 27.11.14 only on the days mentioned above.
Enjoy a 30% discount on all main courses on your bill.
Offer not available in conjunction with any other offer, voucher, set menu or eTesco tokens
Excludes Zizzi O2, Zizzi Twickenham and Zizzi Wembley on event days
Please present your code to your waiter.
Your code is valid for your entire party and the discount will be applied to all qualifying food items on your total bill.
Codes will be checked against a live database and incorrect or previously used codes will not be accepted.
Please check your voucher for restrictions.
Includes Takeaway and Bambini kids menu
Excludes Sharers, Starters and Desserts
0 Responses to "Zizzi Ristorante 30% Off Mains"