Supermarket Switch Challenge 2012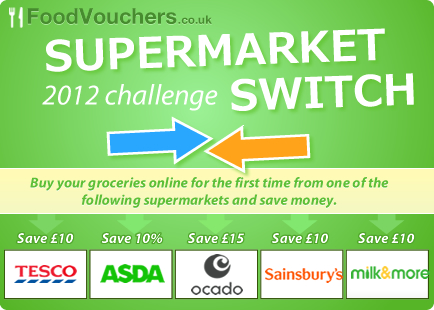 Did you know supermarkets are giving away thousands of pounds worth of vouchers every week?
We challenge you to save money on your next grocery bill by simply shopping at a different supermarket.
Supermarkets are fighting for your money, currently Tesco, Sainsbury's, Ocado, milk&more and ASDA all offer money saving vouchers.
Shop smart, save up to £15 on this weeks grocery shop!
To take part simply buy your groceries online for the first time from one of the following supermarkets and in the process save money.
Choose an offer above and use the related voucher code, let us know which supermarket you used!
Just one shop at a different supermarket can save you £10. For those who want a tougher challenge why not shop each week with a different supermarket and save over £40…are you up to the Supermarket Switch Challenge?
Join the challenge on Facebook and Twitter
If you are trying a different supermarket for this weeks shop let us know. We want to hear both the good and bad experiences!



Are you a blogger?
We read a lot of money saving and food blogs. If you have a blog of any size we would love you to take up this #supermarketswitch challenge!
We even have a special Supermarket Switch Competition for anyone with a blog!
0 Responses to "Supermarket Switch Challenge 2012"